Benefits

of Having a Generator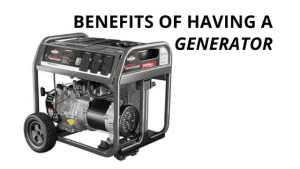 Storms, no matter the season, can blow into town leaving a path of destruction in its wake and you without electricity. That's when it's pretty handy to have a generator sitting in the garage. Here are 8 benefits of having a generator ready to go when you're without electricity:  
Medical Equipment
Those who have health issues often need an available electrical source when the power goes out. Oxygen machines can be run on a generator. Air conditioners are needed for those with breathing problems and elderly patients who cannot handle the hot weather. A large enough generator can handle those electrical needs and provide peace of mind.
Storms
Generators that are permanently installed to utility power can be monitored and detect when there is a loss of electricity. Having a permanent home generator installed when it's storming and blowing outside will mean that you will have power without going outside to start up a manual generator.
Sump Pumps
If you have flooding issues in your home a backup generator will ensure that your sump pump will continue to work and do its job during heavy downpours and inches of melting snow.
Keep Appliances Running
Generators can power everything in your home running; from opening the garage door, to charging cell phones to keeping the milk cold and the coffee brewing. When you and your family have heat, lights and other "essentials" such as the television and internet, the storm will seem less stressful and peaceful for the duration.
Business
Small business owners such as family restaurants, rural markets, and butcher shops cannot afford to lose time and money from power outages. A generator will keep your crucial business tools running no matter the weather and an Internet-based company that provides services to their sales force can give clients access to online information and reports even in a power outage.
Standby Generators
While portable generators are limited to how much fuel you have on-hand, standby generators take ease of operation a step further and connect directly to your fuel source. Whether it is natural gas or liquid propane it will continue producing electricity as a reliable power supply. Added benefits include the fact that home generators are wired into the home electrical system, require no setup and require little maintenance.
Camping and Recreational Activities
While camping is a great experience, some things from home are nice to have along such as the first cup of brewed coffee in the morning or a small refrigerator to keep meat safely cold.  It also makes moving a party to the park or out in the backyard more convenient.
Contractors
Onsite electricity often requires portable power to operate tools. Tools that require air compressors require electricity, as well as lighting for night-time, are just a few situation where job sites need a portable generator.
Portable or home electric generators are, convenient and an essential business tool or a life-saving power backup system. When a natural disaster happens, generators are one of the first things to sell out but those who are prepared, benefit from the peace of mind of a generator are calm and ready to handle the storm.
Write

a Comment
Fields with * are requierd