December is around the corner, and snow has already started falling in some places. Although snow blowers aren't exactly a necessity yet, they will be soon. There are plenty of "preseason" things you can be doing to maintain your snow blower.   Read More
It's always a good idea to take care of your lawn mower, even when the weather is cold and snowy. Properly storing and maintaining your mower during the winter will give it a longer lifecycle, and you'll be able to get the absolute most out of it when it's mowing season again.
Although it might be cold and snowy, it's never too early to think about lawn care, and especially if you are considering hiring a lawn care service. Whether it is temporary, or long-term, you want to get the best out of your investment. Read More
Fall cleanup can be a real drag; however, there are several outdoor equipment products available that can help you get the job done faster. Here are our top picks of fall equipment to help you with fall cleanup:
A pressure washer is a great tool that can really make your life easier. This tool allows you to wash away dirt and grime in places that you thought you would never be able to get clean. Because of the amount of pressure the washer produces, things around the house like your deck, driveway, and even siding are easier to clean. Pressure washers have different specifications that each buyer needs to look out for when heading to the local retailer. Here are some tips on what to look for when buying a new pressure washer. Read More
Fall will be here before we know it but before it arrives, there are some end of summer maintenance items you should take care of to help ensure your yard stays healthy throughout the cold winter months ahead. Here are 6 projects to tackle before fall arrives: Read More
While fidget spinners, phone cases that look like food, and fancy lattes are on trend right now; there's another trend that is beginning to spike: lawn and gardening! Now, thanks to the DIY wave, lawn and gardening is growing at a steady rate, raking in  $3.69-billion dollars a year according to a National Gardening Survey. Surprisingly, this industry is now being led by the millennials! How could the Millennials be leading this industry when Starbucks or fidget spinners aren't involved?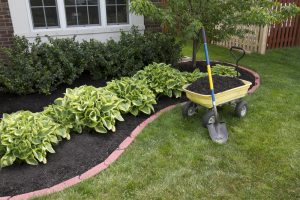 You may be putting all this time and hard work into your yard to make it look perfect. You took all the steps and precautions necessary to make all your hard work worth wild, but you notice a part of your yard where the grass is dead, the soil is separated, or water has collected from it raining. This could be an unappealing sight to look at, but you have no idea what it is or how to stop it from continuing to get worse. It could be from erosion in your yard. Read More
Whether you have a riding lawn mower, a gasoline-powered push mower, or like it a bit old school with a reel mower, at some point you're going to find yourself in need of replacement tires. While each style of mower is naturally different, today we want to set some guidelines that will hopefully make the task of choosing tires for your lawn mower easier. Read More
With almost forty different types that can infect your yard, getting rid of weeds can be a challenge. All weeds – from crabgrass to dandelion weeds – compete with the plants you actually want, stealing precious soil and nutrients. Not to mention how weeds ruin the look of your perfectly landscaped property. Today, we want to talk about how to get rid of weeks with three simple tricks. Read More