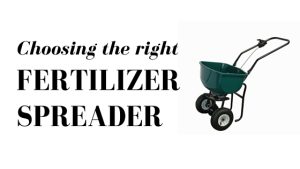 When it comes to yard work, there is nothing more frustrating than pulling weeds or killing your own plants. Fertilizing your yard is the solution to combating those pesky weeds and saving your plants. The best ways to fertilize your yard are few and far between and the fertilizer spreader choices can be overwhelming. Spreaders are useful tools for applying granular fertilizer to your lawn. Here is a breakdown of the different fertilizer spreaders that could be the best fit for your lawn:
Rolling your yard: should you or shouldn't you? You see your neighbor doing it and may be wondering why and what's the point? A lawn roller is a useful tool; however, one that should not be used regularly. Rolling your yard is important only after seeding, sodding, or a bad winter. Here are a few examples when a roller should be used:
Who ever said spring cleaning was just for your house? Spring cleaning should be a part of every aspect of your life including….outdoor equipment. You've made the investment into nice outdoor equipment so it is important you care for them if you want to keep your equipment and tools in good shape. Proper maintenance should never be overlooked so spring cleaning your outdoor equipment is essential for the longevity of your equipment.

The National Institute of Health recommends that individuals do about two and half hours a week of physical activity to reap the most physical activity benefit. But let's face it, some weeks that is a large order to fill. Really, who has time to go to the gym that much? Lucky for you, we have the solution: yard work! You can easily spend 30 – 45 minutes out in your yard tidying up those flower beds and cutting the grass (with a push mower of course) to help reach your weekly physical activity goals.
You've made two decisions: it's time to buy a new mower and you want a zero-turn. Now what? You have at least narrowed things down a bit but the choices seem endless and overwhelming. Before you move on your quest and search for the perfect mower, we think you should consider Simplicity's Courier Residential Zero Turn Mower. This piece of equipment comes packed full of benefits that we know you will love.
Once upon a time, your garage was a squeaky clean space to park your car. Now, it's a cluttered mess, filled with miscellaneous tools and other random items you're not exactly sure when, or how, got in there. Needless to say, it's time to organize your garage, but where do you begin when there's just so much there? Follow these 5 tips to declutter and take back control of your garage.
If you are a homeowner, you know there are hundreds of tools you need to make your home look the best, both inside and out. This is no different for your lawn care, and if you don't have a shed, you may be pretty limited on your storage for these tools. There are two optimal times to get a shed: autumn and the end of winter or beginning of spring. With spring on its way, you know you're going to be needing all of those tools very soon, so now is the perfect time to buy a shed for storage. We know there are several options out there for you to choose from, so check out this tip guide below to help you make your decision. Read More
2016 has finally arrived, and with the new year, we want to bring you the latest and greatest products in lawn equipment to take your lawn to a whole new level and bring it to the best condition ever. So hold on tight, we're going for a ride through 6 products to transform your lawn this year. Read More
Buying a generator can be overwhelming. There is so much to know and consider, so if you're not informed and organized with this information, you may find yourself making the wrong decision. Don't let this be you. Be informed and organized with these buying tips. This will help you with the decision on which generator will be perfect to protect you and your family. Read More
"Oh the weather outside is frightful!" Ok, so it may not be quite frightful yet, but when the first sign of snow and ice hits, it might be. We're all aware, or should be aware, that salt can help de-ice our driveways, sidewalks, and streets to help us move safely along in the wintertime. However, did you know de-icers will damage concrete? Also, did you know that some de-icers are more appropriate for your needs than others? Don't worry! We're here to give you all the information you need so you can keep your driveways/sidewalks/walkways, your family, and yourself safe this winter. Read More