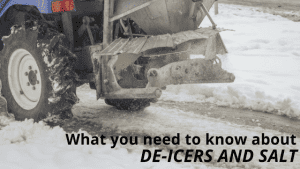 Rock salt is beneficial in melting thick layers of ice and snow and one of the first things people reach for when there is bad weather coming. It breaks down the ice on roads and other paved surfaces quite well. It is a matter of safety as ice on steps and walkways is extremely dangerous and leads to numerous injuries every year. De-icers are available that use various chemical variations of salt to melt ice on patios, walkways, and driveways. But as with everything, there are pros and cons. Salt is very soluble and can run off into nearby bodies of water and have a tremendous effect on plants in the area. Here is some information to help you weigh the pros and cons on using salt as a de-icer: Read More
As winter enters the area some may look forward to the beauty of snow covered trees and yards; while others feel dread at the first site of snow because of the extra time, work and effort that a few inches of the powdery stuff involves when it hits the area. Read More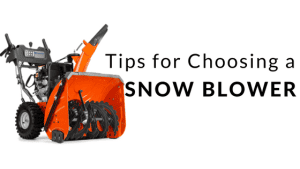 Most people prefer snow blowers over snow shovels, especially during the winters that have a lot of accumulation. With the right snow blower, you can clear a long, steep driveway fairly quickly, whereas shoveling is much harder and takes a lot longer. The important thing is to choose the right snow blower with the most useful features for you and the area you are clearing. Read More
The air is crisp, the leaves are falling and pumpkins are everywhere. It's finally time to store your lawnmower away for the winter. If you do not expect Santa to bring you a new lawnmower for Christmas you will want to store it properly so that it starts up for you again next spring. Here are common mistakes to avoid when storing your lawn mower. Read More
The air is getting cooler and days are getting shorter. Ahh, fall has finally arrived. Time to pack away the lawn equipment and let nature take its course with your lawn, right? Wrong. There is still work to be done to ensure that your lawn is green and lush come the spring. Read More
Cleaning up leaves isn't necessarily the most fun thing to do on a Saturday morning. But, it must be done! Just try to think of it as nature's way to bring some activity into your life. Here are our tips to making leaf cleanup a breeze this season, so you can get back to more fun things like watching football: Read More
It's that time of year to start putting some of your outdoor equipment away for the season. When retiring you equipment until spring, simply tossing it into a shed or garage is not considered a best practice. There are few maintenance items that need to be done so that when it comes time for spring, your outdoor equipment is ready to go.

True or false: log splitters cut wood. FALSE. Although it seems like the obvious answer would be true, like the name suggests, a log splitter splits wood. Log splitters are equipped with a wedge that is driven into the middle of a piece of wood until it finally splits. Because of this, it is important to focus on a log splitters strength and not necessarily the speed, when deciding what log splitter to buy. This strength, or force, is measured in tons. The greater the tonnage the log splitter can put out, the harder and wider the logs it can split. Read More
Don't let the name "leaf blower" fool you. This is a versatile piece of outdoor equipment that can help you with a variety of tasks. Besides the obvious of helping to save your back in the fall with leaf cleanup, a leaf blower can also double as a driveway/sidewalk sweeper, debris corraler and a snow remover (if the snow is light enough). There is a wide variety of leaf blowers to choose from, so when selecting the one for you, it is important to consider your yard size and the workload you're expecting to get out of the equipment. That is where people often fall short in their leaf blower purchase and end up getting something that doesn't quite get the job done. Read More
Many folks do one of two things to their outdoor equipment at the end of a season: drain their equipment dry or leave untreated gas in the tank. Both are mistakes and should be avoided.
Running all the fuel out in equipment is bad news because fuel is the heart of the equipment; without it, it cannot run. If there is not gas in the lines, then this leaves room for air and where there is air there is water. Water can lead to a whole host of problems including corrosion of the tank and fuel lines.   Read More