Snow is most likely the last thing on your mind. Unfortunately, winter is just around the corner and snow might be coming our way sooner than expected. If you have a snowblower, there are some things you will want to do to prepare for the first inevitable snowfall. Read More
There was a time when there was only one option and goal for lawn care equipment: To own everything you needed. But what most people don't know is there is another option: Rental equipment. Of course, for the equipment you use regularly, it makes more sense to purchase, but for those pieces of equipment you only see yourself using once or twice, renting would be the viable option.  Read More
Fall is just around the corner, and if you haven't thought about fall gardening yet, this is the perfect time to start doing so. There are some vegetables perfect for planting in the fall and they will even survive a frost. However, there are also several challenges you will face with fall gardening. Here are some guidelines to consider when planning your autumn gardening this year.
Summer is winding down and the fall season is quickly approaching. You know what that means: Fall cleanup. This generally includes falling leaves and preparation for the long winter ahead. Raking leaves is a dreaded fall chore, but there are some ways to make the job easier on you, saving you both time and frustration. Here's to enjoying fall.
Lawn diseases can be scary any time of the year, but summer lawn diseases can be especially damaging. The key is preventing these problems before they start by maintaining a healthy lawn throughout the year and understanding the situations that lead to these predicaments.
Combining awareness and prevention helps ensure these summer diseases don't become a problem for your lawn.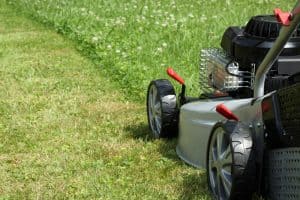 You hit rocks, you mow over branches, maybe you run over a giant root you didn't see that was hidden in the grass. With each cut your lawnmower makes, the blade is developing dings and nicks and getting duller. And that's a very bad thing for your lawn.
Mowing wet grass is normally a big no-no. It's slippery to walk on, it clumps up, it can clog your mower and it could potentially spread fungi and bacteria.
So mowing a wet lawn isn't recommended.
However, sometimes you don't have much choice.
Whether you take great pride in your lawn or simply don't want it to look like a disaster, spring or summer flooding can be one of the most frustrating – and even dangerous – situations to deal with.
Constant rain and flooding can leave your lawn anywhere between a mucky mess and an all-out lake.
Spring is about building a healthy and lush lawn.
Summer is about endurance: Enduring the hot sun and temperatures, enduring less rain, enduring having the kids and pets and family and friends trampling on it for three months.
Seriously, is there anything kids enjoy more than playing in the dirt? They love it, and it's fun to watch … until you have to clean them up of course.
But more and more it's tough to get kids outside. Between video games and iPods and … cable, kids have less motivation to get outdoors.