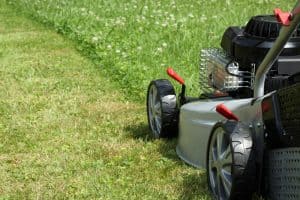 You hit rocks, you mow over branches, maybe you run over a giant root you didn't see that was hidden in the grass. With each cut your lawnmower makes, the blade is developing dings and nicks and getting duller. And that's a very bad thing for your lawn.
Mowing wet grass is normally a big no-no. It's slippery to walk on, it clumps up, it can clog your mower and it could potentially spread fungi and bacteria.
So mowing a wet lawn isn't recommended.
However, sometimes you don't have much choice.
Whether you take great pride in your lawn or simply don't want it to look like a disaster, spring or summer flooding can be one of the most frustrating – and even dangerous – situations to deal with.
Constant rain and flooding can leave your lawn anywhere between a mucky mess and an all-out lake.
Spring is about building a healthy and lush lawn.
Summer is about endurance: Enduring the hot sun and temperatures, enduring less rain, enduring having the kids and pets and family and friends trampling on it for three months.
Seriously, is there anything kids enjoy more than playing in the dirt? They love it, and it's fun to watch … until you have to clean them up of course.
But more and more it's tough to get kids outside. Between video games and iPods and … cable, kids have less motivation to get outdoors.
Admit it, every spring when baseball season starts you look at those beautifully striped diamonds and outfields and think, "that's how I want my lawn to look."
That perfectly mown grass with those sharp stripes and eye-catching designs have reached out and grabbed most of us. But if you think you need years of experience working on a Major League grounds crew in order to make your own lawn stripes, we're going to let you in on a secret: You don't.
What thoughts go through your head when you drive by a beautifully landscaped home? It's an image that shows pride in your home, your neighborhood while giving you a great sanctuary.
If you've ever wanted to start your own garden but aren't sure, well, where to start or are intimidated by your lack of a green thumb, we've got some good news for you: Gardening is something everyone can learn to do.
Believe it or not, warm weather is on the horizon. And before you know it, your spring lawn is going to be full and ready for that first cut of the season.
But after sitting for three or four months in the shed or garage, there's a very good chance your mower or tractor is going to need a check and some maintenance. In fact, routine maintenance on all lawn and garden equipment is a very good idea to extend their lifespans.
It's been a long winter but trust us, spring is headed our way.
I know, revel in that feeling for that moment.
And we're betting that once the sun comes out and the snow clears up, you'll be champing at the bit to get outside and enjoy warmer weather. You'll also probably notice it's time to get working on that lawn.