A pressure washer is a great tool that can really make your life easier. This tool allows you to wash away dirt and grime in places that you thought you would never be able to get clean. Because of the amount of pressure the washer produces, things around the house like your deck, driveway, and even siding are easier to clean. Pressure washers have different specifications that each buyer needs to look out for when heading to the local retailer. Here are some tips on what to look for when buying a new pressure washer. Read More
The truth is, mowing your lawn can be boring. After a while, it's easy to become complacent and not necessarily completing the job with the same amount of gusto as you did when the mowing season first started. But let's not forget that a lawn mower can be a dangerous tool if not handled properly.
Don't let the name "leaf blower" fool you. This is a versatile piece of outdoor equipment that can help you with a variety of tasks. Besides the obvious of helping to save your back in the fall with leaf cleanup, a leaf blower can also double as a driveway/sidewalk sweeper, debris corraler and a snow remover (if the snow is light enough). There is a wide variety of leaf blowers to choose from, so when selecting the one for you, it is important to consider your yard size and the workload you're expecting to get out of the equipment. That is where people often fall short in their leaf blower purchase and end up getting something that doesn't quite get the job done. Read More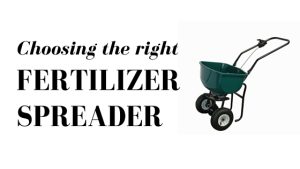 When it comes to yard work, there is nothing more frustrating than pulling weeds or killing your own plants. Fertilizing your yard is the solution to combating those pesky weeds and saving your plants. The best ways to fertilize your yard are few and far between and the fertilizer spreader choices can be overwhelming. Spreaders are useful tools for applying granular fertilizer to your lawn. Here is a breakdown of the different fertilizer spreaders that could be the best fit for your lawn:
Selecting a lawn mower may seem like a fairly simple process, but there are some key considerations you should understand before making the purchase. After all, the last thing you want to do is make a mistake that's either going to be costly, make mowing more time consuming than it needs to be, or result in a poorly manicured lawn.
Essentially, there are three things to consider:
The amount of lawn you mow
Your physical ability
The investment you want to make
When it comes time to get a new lawn mower, how do you go about selecting one? Do you grab a used one on the side of the road? Or run to Walmart? What are your thoughts on name brands?
The fact is, if you make a good, educated purchase now it's going to help you in the long run, whether it costs your more or not. Here's five things you should know when selecting your next lawn mower, follow them and you'll thank us down the road: