Tips

for Choosing a Snow Blower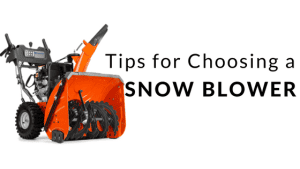 Most people prefer snow blowers over snow shovels, especially during the winters that have a lot of accumulation. With the right snow blower, you can clear a long, steep driveway fairly quickly, whereas shoveling is much harder and takes a lot longer. The important thing is to choose the right snow blower with the most useful features for you and the area you are clearing.
Types of Snow Blowers
There are three main categories of blowers: single-stage electric, single-stage gas and two-stage gas models. What you need to consider is how far you want to throw the snow for your driveway, whether it is long or short, narrow or wide.
Electric Snow Blowers
Throws feet up to 25 feet

Clears 11-18" path at a time

Accumulation up to 4"

Pros: good for small driveways, very lightweight, easy to maneuver, compact and easy to store, very quiet, no engine to maintain, does not require fuel

Cons: for light fluffy snow only, unsuitable for gravel driveways, not for steep incline, power cord length limited
Single-Stage Gas Snow Blowers
Throws snow up to 35 feet

Clears 20- 22" path at a time

Accumulation up to 8"

Pros: small or mid-size driveway, relatively lightweight, easy to maneuver, fairly compact and easy to store, electric start available, can handle fluffy snow

Cons: runs on mix of gas and oil, requires engine maintenance, requires fuel, not suitable for steep inclines or wet and heavy snow, not for gravel driveways, pulling power is mediocre
Two-Stage Gas Snow Blowers
Throws snow up to 50 feet

Clears 28-30" path at a time

Any accumulation

Pros: powerful, safe for gravel driveways, engine-driven wheels, good for steep inclines, handles wet and heavy snow

Cons: expensive, bulky and hard to store, very heavy, requires engine maintenance
Top Snow Blower Features
There are a variety of different features available so the first step is to decide what features are the most important to you. Also, remember the more advanced the features, the more expensive the machine is going to be.
Clearing Width –

The width is important because it determined how many passes you will need to make to get your driveway cleared. Smaller models clear widths of 12" or less up to larger models that can clear up to 45".
Electric Start –

Many snow blowers feature electric starters, plug the snow blower into a standard outlet to start it up.
Wheel Power –

Often two-stage gas snow blowers have trigger releases on their handlebars. When the trigger is pulled the power disengages quickly from one or both drive wheels. This is for situations when something gets in the way unexpectedly.
A two-stage gas model is best to adjust a snow blower's speed and usually, have 5 or 6 different forward speeds. The top advantage is to adjust the speed to accommodate different type snow and help prevent clogs.
Height

: Some blowers have handlebars that adjust in height and even by angle degrees. Before buying be sure to check the fit to make sure it is the correct height for you and easy to maneuver.
Heated Grips

: Definitely not a must – have, but very nice to have when you are out for a long time in the cold.
There are snow blowers for every situation and budget. Once you narrow down the things that are important to you, the area that needs to be cleared and the typical amount and type of snow makes buying snow blower easy.
Still have questions? Stop by and let the friendly professionals at Snappy's help you!
Write

a Comment
Fields with * are requierd